somehow after a very late friday again--yay!--i'm wide awake. bursting with energy even. i finished up the fairy i was embroidering on one of maia's pillowcases this morning: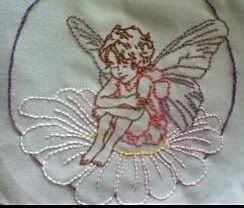 i'm planning a hopefully quite large trip to the grocery store. i'm running out of so many basics: brown sugar, almond extract, flour, butter, eggs. you know--the BAKING basics. =D i guess we need some more mundane stuff too =P
on the way back from maia's dance class we stopped at a local church fleamarket--which had a lot of crap--and then at an estate sale where i scored a fantastic oscar de la renta kerchief for a DOLLAR. and it's in shades of blue, so will match well with clothes as a hairband. there were all sorts of other antique stuff that i'd have no use for other than the desire to have it and look at it. definitely do NOT need a stove from 80+ years ago.... do NOT do NOT. doesn't matter if it works... =(
hmm..nothing else so far..just waiting for the ex to come by for the kids...before heading out towards the grocery store. tonight..tentative plans to attend a party...maybe get dinner before hand. not sure.