recently, i've discovered a whole treasure trove of wonderful blogs. one of my favorites is the
wee wonderfuls
blog. i got the directions to make the pointy kitty from there. i'm also new to typepad, so i'm not sure the proper way to credit other people on here (or do a whole lot of things on typepad yet!)
the first pointy kitty is done...i gave it to maia and she likes it a lot! a few pics....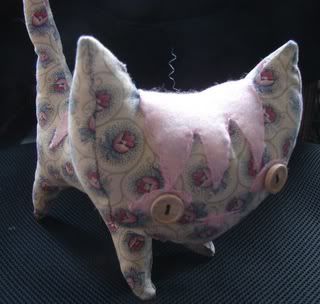 i have no clue what the squiggly thing is..it's NOT attached to him and just showed up in this picture.
here you can see a side view...no squiggle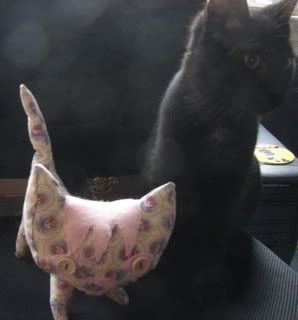 pointy kitty poses with eddie..no squiggle!
this little kitty is entirely handmade using nothing but fabric, thread, a needle and my own two hands. please be kind! her stripes are made of wool felt and her 'fur' is made from a vintage napkin. her eyes are ordinary wooden buttons. =)