...must go take a shower in a few minutes--right after maia and i read some fairy tales and i do some general straightening.
yesterday afternoon, maia and i went to lowes for paint and i started painting the front porch. i got all the lattice work done yesterday before it was time to make dinner. this morning after we came back from walking the dogs i polished off the rest of the porch. i am SO GLAD this task is done.
it was imperative to be done in spring, otherwise i would have to step in flowers and kill them to do it. the spring we moved in, the porch wasn't too bad and there were too many other things to do having just moved in. last spring i was all ready to paint and then construction began on the house next door which consisted of sending great billowing clouds of dust onto my house and porch so it wasn't possible. by this spring the front porch needed to be painted and could NOT be delayed any farther.
i forgot to take pictures early on, so i took one of the steps of the front porch to get the 'before' shot
i only had two steps left when i remembered to take that.here is the 'after' shot. using my cell phone to take the pic (as usual) required that i stay pretty close to the porch. if you are wondering what that thing is on the left hand window, it's this sign that has our last name on it that the mother-in-law passed off to us. the paint is still wet in some spots as i took this picture about 15 minutes after i finished.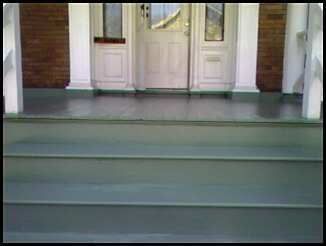 with luck, the bricks will receive their cleaning sometime this year BEFORE winter =) (if only i had the ladders to do that myself!)
while i painted yesterday, the kids polished off the last of the chocolate chip cookies...so today, while missy was over for lunch, i whipped these up:
it's similar to shortbread, but with a sweeter rather than a buttery taste.