the grass is really coming up!! finally! it's raining here, so forgive the dreary look in the picture: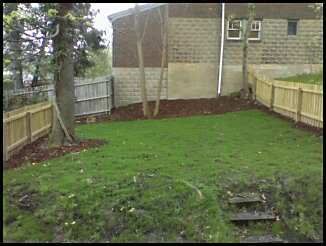 yesterday maia and i had lunch at the spaghetti warehouse with mindy. she was mildly disappointed we didn't get seated in the train car but otherwise we had a nice lunch. the kids and i went to the playground after school where tristyn and maia worked on their clubhouse some more (a hillside just right for climbing and setting up branches as gates). tristyn's little friend tyler and his brother came to the playground as well and when tyler came in the clubhouse he yelled 'tristyn! this clubhouse is TIGHT!' hahahahaha...it's funny to hear a 7 year old child use words like that.
we had chinese take out for dinner last night and maia ate TWO pieces of general tso's chicken. TWO pieces. and earlier in the week she actually ate a sloppy joe. that's two things in less than a week that she has tried and actually liked. this may be a sign that my super picky eater may be in the process of downgrading to only a picky eater. i'm keeping my fingers crossed.
this morning maia and i seem to be in the same funk (though for different reasons). me, because i went to bed too late last night and maia because it's 'really early. really really early mummy, maybe it's not even morning yet!' that is her comment on the gloomy weather. she's lying on the floor bundled up in a big furry blanket like it's still winter watching a cartoon surrounded by an army of care bears.