after making the trip to the grocery store, straightening, blahblahblah...i did a little recycling: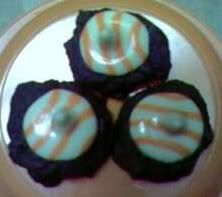 these are chocolate cookies (despite not taking the time to make perfect circles =( ) with orange creme hershey kisses. the orange creme kisses have been sitting around the last week, relatively untouched because they really are too orangeycreamy to eat alone. the chocolate cookie really makes a difference. the kids have each had 2 so far (then mean mummy stepped and said no more until after dinner!)
this is a trifle like dessert made from easter sunday's leftover angel food cake, vanilla pudding (luckily i remembered to pick up cornstarch at the grocery store!) and blueberries.
both things were slated to be pitched into the trash...but i recycled them...right?
=P