i know some of you are tired of hearing me gripe about this, but i'm feeling the urge to do it again, because i just spent 6 hours up to my eyeballs in muck, mulch, seed and fertilizer yesterday afternoon.
a little background....
when we moved into our house in may of 2005, the backyard was covered about 90% in a heavey thick carpet of ivy. i spent 2 days removing all of that ivy by hand and by a cutco knife (more efficient than pruners). i bagged it into those giant 30 gallon hefty trashbags. 72 of those bags. that's how much ivy was back there. i chose to do it by hand to preserve the topsoil.
that fall after our wedding and trip, i spread down a little more topsoil and fertilizer and threw some seed down. i got a very sparse lawn...that's all i had time for before it grew too cold. it wasn't a lot..but it was enough. i also put down winterizer on my front lawn. it killed the weeds in preparation for spring. fast forward to march of 06.
in the backyard, i spent a great deal of time carefully overseeding the bare spots.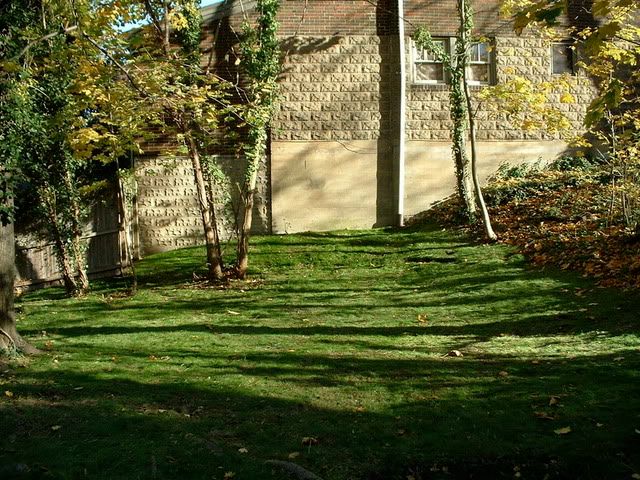 it may not have been the most amazing lawn ever but considering what it had been when we moved in, i'd say it was pretty damn good. i moved towards the front yard. i bought a dethatching rake and an aerator. i dethatched, aerated and then overseeded. within a couple weeks i had beautiful lawn there too. a few weeds, mostly the broad leaf variety came through, but it was still greener and there was much more grass than before. fast forward to julyish/augustish of 06.
the house next door that had been in a state of decline had recently (april) been bought by someone who was fixing it up to sell it. aside from the chimney they 'accidentally' dropped on our electrical in-wires that cut out our electricity on easter day and for 3 days afterwards and other minor things, they FUCKED up my grass. first, they thought it okay to drive their wheelbarrow full of blocks for the wall they were constructing through my front lawn instead of coming around from the other side of their house. i had a rut the entire length of my front lawn and the thickness of probably 3 wheelbarrow wheels. luckily a few weeks after the wall was finished it grew in of it's own accord.
but the backyard, OH THE BACKYARD. the house next door had the same backyard that i used to have. all ivy covered. they decided rather than doing it the tedious way, to bring in a construction machine. i don't know what it was called..but one of those ones with the claw that can scoop stuff up and has the jaggedy 'teeth' on the one part of the scoopy bucket. they used that to rip up the ivy and all of the topsoil. there wasn't any of it left. they took it all the way down to the clay and left it like that for all of july, august and a wee bit into september. of course we ended up having a very rainy summer. the rain would not soak into their clay, and instead ran off of it taking clayed-up water into my yard (and also over the wall and into my basement and off their roof and into my basement as they had yet to do the drainpipes). slowly my yard began to be poisoned and die off. you could see that's what was causing it because the grass adjoining their clay died first, then the rate of destruction pooled out from there. it was even starting to creep into the yard of my neighbor on the other side. lucky-for them--by this time it was september and they came in with more machinery, put down a large load of topsoil and planted grass.
when everything was done, my one neighbor's grass managed to repair itself, the house that was under repair had a beautiful lawn and i had a mud pit. =( trying having two dogs and mudpit. everytime they go out and come in, you have to wash their feet with soapy water. i felt like i was living in some biblical time. it sucked(s).
december of 06 we got a fence installed around our mud pit. and then we waited. i was so upset at the backyard, all the months between then and now i didn't want to even talk about it. but the last week or so rick and i have been plotting the mud pit's repair. this time (i think because he felt bad because i was SO upset) he helped me. hell, he didn't help me. we WORKED TOGETHER. we spread mulch around certain portions of the yard--the place where we have the sandbox, around the perimeter of the fence so i can plant hostas/impatiens and across the back slope to cut down on the areas we need to concentrate on growing grass. then we spread manure/hummus mixture, put down seed and a stareter fertilizer and watered it.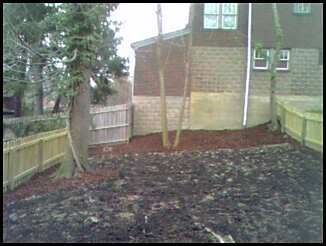 here's how much stuff we moved from the front of house where our element was parked across the street to the backyard:
mulch---- 30 bags at 20lbs each=600 lbs!!
manure---60 bags at 40lbs each=2400 lbs!!!!!
WTF...do you realize we moved 3000lbs of weight by ourselves yesterday? UGH.
after clumping around in the backyard yesterday and then taking the dogs for a walk in the dogpark up the street (as they can't go in the backyard for a few weeks now) i came back, sat on the front porch and consoled myself (as done nothing but mourn my old lawn in the back for hours) by looking at the first flowers that have come up in my front garden.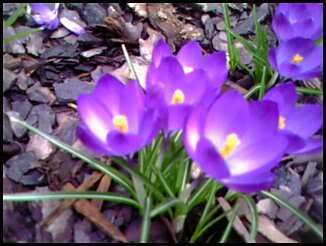 please keep your fingers crossed that this time when the grass comes up, no one does anything that compromises it.