Friday after lunch we went to the UFC weigh ins. They were still free, but what a difference 2 years and 2 years of the ufc reality show on spike tv makes! This year we were all shown into a portion of the Nationwide Arena and we watched the weighins from way up high. There were about 5000 people there. You couldn't talk to any of the fighters, let alone get any pictures with them. Two years ago there were only about 100-150 of us at the weighins and there was plenty of time to get pictures taken. We had our pictures taken with several of the fighters (even including me with Andre Arlovski!). But because this entry is going to have lots of pics and to show a contrast these first two pictures are from the 2005 weighins we went to. The first one is Rick with Randy Couture--a fighter who fought in 2005 and the main headliner from this show as well. The second one is Rick with Dana White, the president of the UFC.
We had no good pictures of this year's weigh-ins because we were seated at an angle not really conducive to pics. This was the best we could get:
Saturday, before the UFC we headed over to the Columbus convention center to check out the arnold fest stuff. for those not in the know, the arnold fest is something that arnold schwartznegger(spelling?) either started and/or endorsed from early on. it's an event that has a huge convention like room full of vendors hawking their vitamins, mixes, supplements, clothes, books,etc. everything pertaining to fitness. then throughout the convention center there are displays/competitions in everything from brazilian jiu-jitsu to cheerleading to ping pong to karate to weightlifting (you get the idea)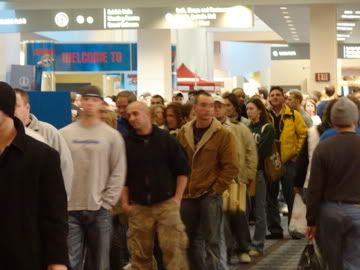 That was the line to get in the convention. Tickets were $10 a piece. We waited in line about 15-20 minutes. It was cash only transactions too! Imagine if it had been credit/debit transactions being allowed as well! Inside, where the booths are you could hardly move the crowd was so thick. It was ridiculous. Probably because many pro fighters were there. We did see Anderson Silva signing autographs and taking pics. he's a fighter as well:
After a little more than an hour fighting the crowds and actually only seeing maybe 5-6 booths we finally gave up and went to watch some of the competitions. But not before snapping a series of pictures of the weird menwomen hybrids that were walking all over the place. This one was my favorite, even though it's not a face shot (which is the scariest part!) because of the gold lame outfit:
Sumo wrestlers are fun to take pics of. We went and watched them quite by accident as they moved into the ring next to the brazilian jiu-jitsu. This one was the best: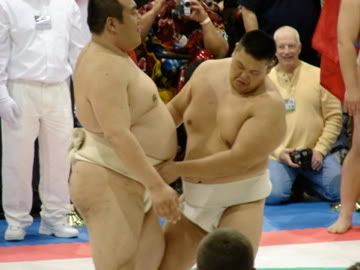 After the convention, Rick and I met up with some people he knew and we headed out for dinner at a restaurant called 'Brothers'. It was AWFUL. First they told us one of our group couldn't come in because he was wearing a Philadelphia Eagles jersey. I thought he was joking because he didn't like the Eagles, but he wasn't. Apparently they have a policy that no jerseys are allowed in bars and clubs in columbus. I suppose this is to cut down on fights? This was the first I've ever heard of this. This wasn't the sort of bar/restaurant that had a dress code either; there were plenty of people in t-shirts and scruffy pants.
Rick ended up lending his jacket so we could all go in and eat. There were 8 of us, and the biggest tables they had were round, high bar tables and only seated four. Nonetheless we pushed two together the best we could and took our seats only to find out that the normal menu wasn't being used as it was too busy. (it was only half full) We could order off a menu featuring four things: burger, chicken sandwich, chicken tenders or a pork sandwich. rick was the only one that ordered the pork sandwich. they came out 4 minutes later to tell us they were out of pork! What little food they did have to offer tasted okay, but overall the whole experience left something to be desired.
Afterwards, we separated from them and went to go get a coffee. We still had over an hour to kill before we could pick up our tickets from will call and an hour after that before we could get in. we went to starbucks next to the nationwide arena only to find that we weren't the only ones with that idea. The place was crammed with people and the line was 15 deep. (it felt like the one starbucks we went to in nyc once which was obviously popular with the on-the-way-to-work crowd). First we stood up to drink our coffee and talk and then space on the window ledge opened up. Finally we moved to this long hallway that led to the bathroom. People were sprawled out along the walls, some even sleeping, waiting for the UFC. We sat down too. I wanted to get a picture, but we were afraid it might be offensive. Rick joked it was like being in a refugee camp.
At will call, we found the UFC's oldest fan. Later, at the show we saw her again, only 2 rows back from the octagon! we think now that she was the grandma of one of the fighters:
starting to fill up.....
filled up....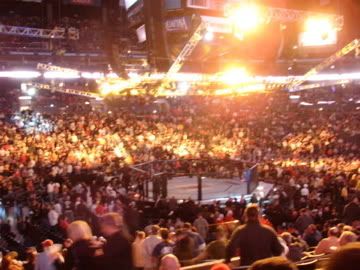 time to start!
The show had 9 fights altogether. The four undercard fights were good but not particularly spectucular (in my book) i was sitting next to the two stupidest men in the arena--i knew more than they did! how often can a woman say THAT at a sporting event??!!! It was amusing to hear them talking to each other, utterly clueless. I didn't want to embarrass them (or be rude) so didn't bother correcting them on their many, Many mistakes.
When the main fights started, i scoped out some celebrities. Here's the best one. You can see two in the same pic but only one matters. Mmmmm Arlovski....
Hughes won his fight and so did Rich Franklin. I was REALLY rooting for Franklin and was SO GLAD he won. Then the Randy Couture v. Tim Sylvia fight started. For those who don't know this significance...Randy has held several titles before. Some time ago, after losing again, he retired. Tim Sylvia has held the heavyweight title for about a year or so now. When Randy decided to come out of retirement people laughed because he was 43 and kind of thought he wasn't so bright because Tim is only 30. Also, Tim is 6'8ish and 263 lbs. Randy is 6'2 and only 222lbs. But look how good he looks!
Within the first minute, Randy knocked Tim on his ass and proceeded to basically beat his ass for five five minute rounds. Randy Couture won by unanimous (sp??) decision to become the new Heavyweight Champion!!! YAY!!!!!!